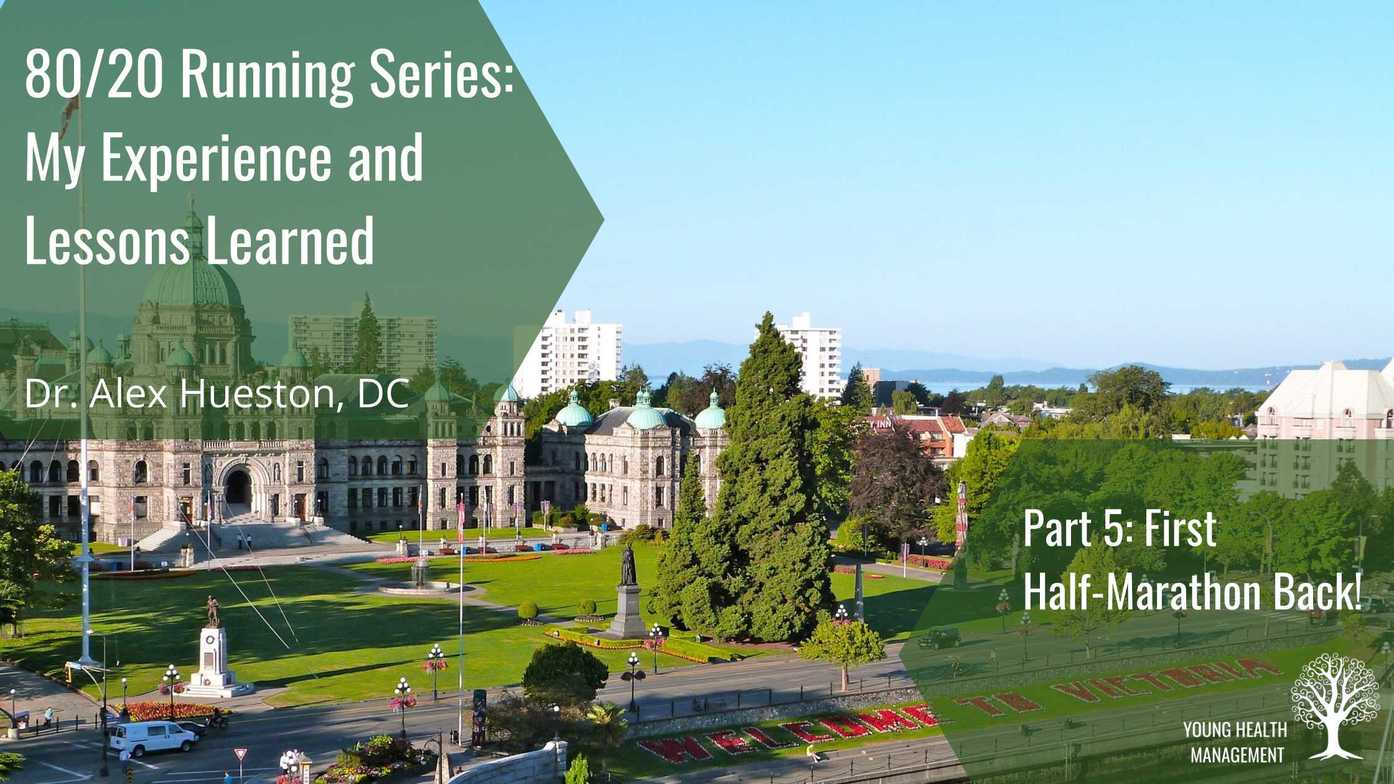 I'm back! The Royal Victoria Half-Marathon was a blast and a beautiful track. I had a great time running my first half-marathon since starting 80/20 running. It felt really good to see where I was at after only a couple months of being back into running. For this race my intension was not to to set any personal bests, but rather I gave myself multiple objectives of the course of the run. My goals for the race were the following:
1) Start Out Easy
I wanted to make sure I started out easy for the first 3 kilometres to assess where my body was at that day and calm down the race jitters. It's always tempting to run with the pack pace but many people including myself make the mistake of coming out of the gate flying and end up running into trouble later on in the race. With training and practice this process can be done in less time until you get to the point where you can come out at your race pace from the beginning, but for most people I recommend giving the yourself 15 seconds of pace lag for the first few kilometres to settle in.
2) Run Relaxed and Light
When running, I wanted to maintain control of my breath with a 3-in/2-out breath pattern and I knew if I could not maintain a steady calm breath I was pushing too hard.
3) Fast Feet!
My goal was to maintain a minimum 180 cadence for the entire race and to allow my feet to determine a suitable pace for the race. Cadence refers to the amount of steps you take per minute and frequent a higher cadence can reduce overall impact and improve pace.
4) Maintain Steady Pace
With the first three goals in place by the 3 kilometre mark I had landed on an approximately a 5:15 pace. I noticed right away that I felt fast because relative to the majority of my training I was moving a lot quicker. This made runnning so much fun and really put me in a positive mental state.
5) Smile, Have fun and Enjoy the Crowd!
For most of the participants, it was the first time they had been running with a large group of people again since CoVid-19. The energy was extremely positive, everyone was encouraging and it was amazing to be running out in the sun with the community.
So What Was the Result?
I ended up running a 1:50:29 for the race overall which is approximately a 5:14 pace average. I maintained my breathing pattern and kept my splits consistent with some fluctuation being due to elevation changes. The 3 slowest kilometres were the first 3 (~ 5:30 pace) which tells me I stuck to my plan. Cadence was an average of 180 exactly and I had a blast from start to finish.
Overall I finished the race knowing I had executed my plan and that I had potential for much faster races in the future.
What's Next?
This weekend coming up is the Duncan, BC Cowichan Autumn Classic event held by Ceevacs which is the amazing running group I have joined for my saturday runs. I will be running the 5K/10K combo (30 minutes rest in between) and then afterwards providing chiropractic care to fellow participants.
Hopefully this post gives you some motivation to sign up for a local race near you and getting back out there running among friends. If you are in the Cowichan Valley, be sure to check out Ceevacs Roadrunners whether you are new to running or a veteran looking to join the community. Feel free to follow me on Strava if you ever want to see where I have been running on Vancouver Island.
Take it Easy!